Amadeus, the official technology partner for Beyond Business Travel, has revealed that it is joining with independent developers on open API technology links, in the hope of creating innovative new products and solutions.
The company is a major IT provider for the global travel and tourism industry. In 2010 Amadeus processed almost 900 million billable travel transactions, servicing customers such as airlines, hotels, tour operators, car rental, travel management companies and more.
Travel Technology Partnerships
Already the team have collaborated with other major travel and digital players, such as Accenture and United. However this new approach will see partnerships with smaller companies, sometimes even startups, becoming more common.
Katherine Grass, head of innovation and ventures, said she is hoping Amadeus for Developers will lead to major changes in the travel industry.
"Open APIs allow us to open up certain data and see what goes," she said. "The programme is going to be as rich and as innovative as possible so developers can really see and understand travel.
Amadeus will use its local offices as sounding boards for new ideas and it is through these channels that developers will first make contact. Ideas will be assessed against company priorities and those considered worth pursuing will advance quickly. Hopefully within just a few months.
Grass said Amadeus aims to complete three to five deals a year and has already seed funded a number of companies in this way.
She continued: "There are six main priority themes for Amadeus. Those are the six main drivers for where we want to be looking for new concepts and driving our programmes."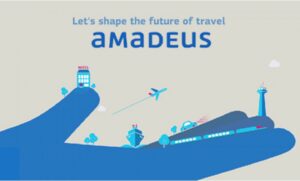 Amadeus' Six Key Themes
Blockchain – A blockchain is a distributed database that is used to maintain a continuously growing list of records, called blocks. Amadeus is hoping to apply this notoriously secure technology in the areas of loyalty schemes, payment solutions and baggage tracking.
Messaging platforms like chatbots – Grass said: "This has been a really interesting space to watch recently. You see a lot of different factors converging together to see the explosion of chatbots hitting the scene. You see brands wanting to converse and interact with travellers in more human ways. Travellers want to converse through chat platforms (WhatsApp etc). Amadeus has some great pilots and prototypes going on."
Improved conversions – Katherine explained: "It's all about how an online player can sell more. How they can use that ad money more effectively."
Operational performance – this covers a broad range of back office functionality like cyber security and disruption management.
Extended content – how the Global Distribution System can distribute a wider range of travel product like in-destination experiences, transfers and insurance through its platform.
New disruptive models – Amadeus will look at new models both suppliers and consumers are adopting currently and how it can emulate these and meet the emerging need.
Grass described one current project in this sphere saying: "One of the coolest examples is an internal product called Travelcast. It is a media solution connecting TV content to instantly available travel search. We did a pilot with United and it's really impressive stuff."
Listen to Katherine explaining the new scheme below: