Business travel can be a stressful experience, but not if you manage to incorporate a measure of leisure into your trip. This is exactly what many employees are doing when required to travel for their job.
In recent years, travel management company Beyond Business Travel Belfast, has experienced a real growth in what have become known as BLeisure bookings. We increasingly advise team members who are keen to save money and transform what could be a tiresome trip into an enjoyable experience.
A recent CWT study found that 15% of corporate travellers aged 20-25 added a Saturday night stay at either end of their booking so they could enjoy the tourist delights their destination had to offer. It has also been reported that around 60% of travellers have taken BLeisure trips in recent years, with 30% adding at least two extra days.
Most often travellers extend and amend bookings in this way so they can gain cultural experiences, share a short break with a loved one or family member or simply de-stress after high pressured meetings or boring conferences.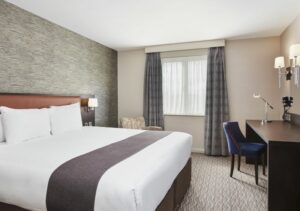 Pick The Right Place to Stay
Bleisure travellers should ensure they book the right part of the city they are visiting and a hotel that's suitable for business and leisure. "It's very important to stay in the right area," Beyond Business Travel Account Manager Michelle Rennick says. "If you stay in a Business District, you risk residing in a ghost town at weekends."
Book A Serviced Apartment
If you're staying for longer and like your own space, then you may want to book a serviced apartment, as opposed to a hotel. "Apartments are often in residential areas, so you can experience a new city like a local. It may even cost you less," Michelle adds.
Rent a Car or use Public Transportation
One of the most enjoyable things to do in a new city or country, is sightseeing. Renting a car or using public transport will allow you to explore your destination more authentically and to go off the beaten track.
Plan Ahead
Let your travel management company know you are booking for leisure as well as business and they can help you research local events that may be happening when you are away. Beyond Business Travel can help arrange show tickets, hotel spa treatments and popular local restaurants, before they get booked up.
Use Air Miles
If you are a frequent flyer or a member of an airline loyalty scheme, why not use points to pay for a family member or loved one to join you? Airline schemes are a perk of corporate travel, but they can be redeemed for personal use. Choose an agent who is used to maximizing points and spending airmiles efficiently, so you get the best return.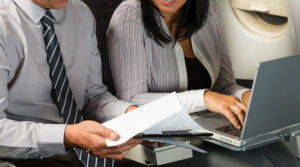 Plan Your Flights Carefully
Perhaps you can't add an extra few days to your trip, but what about an extra few hours? Book an earlier flight to your destination and a later flight home, so you can spend some time exploring the city, its restaurants and attractions.
Know Your Company's Expense Policy
Most companies will have an expense policy that provides staff with an allowance for food and leisure activities during business trips. This isn't going to buy a ticket to DisneyWorld but it might be enough to pay for some cultural extras while you're away.
"It is becoming ever more important for corporate travelers to get the most out of their trips, both professionally and on a personal level," Edel Doherty, Managing Director of Beyond Business Travel said. "Many of our clients can't manage to fully disconnect from their companies more than once a year, and traveling for leisure that sparingly can lead to higher stress levels and burnout."
"Companies are very open to the idea of mixing business and pleasure through travel, as staff usually work harder and have more productive visits, because of the included reward."