Flights Between Abuja, Doha, Muscat and London Heathrow Cancelled
Thousands of people are set to be affected by 16 day long cabin crew strike, which will impact British Airways passengers.
The airline have announced a number of flight cancellations and warned of disruption and delays, as they prepare for the industrial action.
Mixed Fleet Unite have announced that they will strike, due to a long-running pay dispute, between Saturday 1st July and Sunday 16th July inclusive.
Short haul flights should be unaffected, however many long haul flights will be disrupted and BA have released a list of cancellations to and from London Heathrow Airport.
British Airways Cancelled Flights
1 July – BA079 (LHR to MCT)
2 July – BA080 (MCT to LHR) & BA083 (LHR to ABV)
3 July – BA082 (ABV to LHR) & BA125 (LHR to BAH)
4 July – BA124 (BAH to LHR) & BA109 (LHR to DXB) & BA173 (LHR to JFK) & BA112 (JFK to LHR)
5 July – BA108 (DXB to LHR) & BA133 (LHR to JED) & BA075 (LHR to LOS) & BA074 (LOS to LHR)
6 July – BA132 (JED to LHR) & BA67 (LHR to PHL) & BA66 (PHL to LHR) & BA083 (LHR to ABV)
7 July – BA083 (ABV to LHR)
Alternative Arrangements for BA Passengers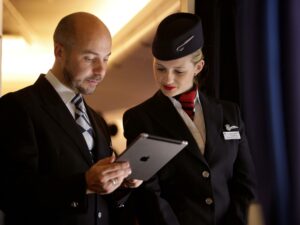 Passengers booked onto the affected flights are being advised that they are entitled to a full refund, can fly instead to a nearby destination or travel on the same route, on a different date.
British Airways are trying to limit the effect of the strike on their passengers and have sought permission from the Civil Aviation Authority to bring in nine fully crewed aircrafts from Qatar Airways.
BA's part owners have airplanes available, since their services to UAE, Egypt and Saudi Arabia have been disrupted due to political disputes in the region.
Beyond Business Travel Can Help
Account managers here at Beyond Business Travel are in the process of indentifying any passengers who are affected by this strike action. Our team will liaise directly with those affected to arrange alternative options.