John F. Kennedy International Airport, New York recently announced a modernisation programme for Terminal 7. This ongoing construction work will cause disruption for travellers going through JFK security from 22 June 2017, to the end of January 2018.
Delays at JFK
British Airways have issued an alert to their customers, advising them that the work will affect all World Traveller and WTP customers on flights departing after 17.00hrs. BA are advising customers to allow an extra hour at the airport to ensure that they reach their gate on time. It is also recommended that travellers check the BA.com homepage for updates before and during their journey.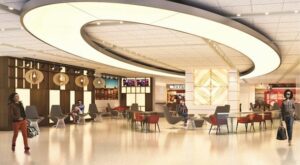 BA state:
"We anticipate that it will take longer than normal to complete security screening at New York JFK Terminal 7. This is due to the terminal improvement works that are taking place. Please allow an extra hour at the airport to ensure that you reach your gate on time."
JFK Terminal 7 Upgrade
British Airways are investing more than $67million in Terminal 7 and have promised customers that the new facilities will be more contemporary, have better choices for eating, more luxurious lounges and a streamlined gate area. There will also be more plug sockets and work stations, which will be great news for business travellers moving in and out of the New York airport.
Other changes include updated bathroom facilities, more Duty Free shopping and a brand new customer service desk in Departures.