The UK and US governments are banning digital devices from airplane cabins on flights from a number of Middle Eastern countries. The move has been hailed as a disaster for business travellers.
It has been reported that the ban was introduced in response to a terror threat and though no other countries have announced similar measures, some European governments have refused to rule the option out. Here's all you need to know about the new laptop ban.
Which Countries?
The UK and US have targeted different countries.
Britain's new ban will affect those travelling into the UK from Turkey, Lebanon, Jordan, Egypt, Tunisia and Saudi Arabia.
President Trump's order will impact on those travelling from Turkey, Morocco, Jordan, Egypt, the United Arab Emirates, Qatar, Saudi Arabia and Kuwait.
Which Devices?
The new travel restrictions cover devices which are larger than a typical smartphone. Any electronic device larger that 16cm by 9.3cm by 1.5cm can be carried on board but will have to be stowed in hold. The gadgets banned include laptops, iPads (and iPad Minis) larger smartphones (phablets) e-readers and small games consoles.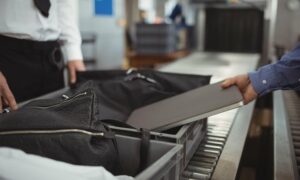 When Does The Laptop Ban Start?
No official date has been announced. Both governments have stated that they are giving airlines a short period of time to make plans and to address the new rules. However it is expected that the restrictions will come into place imminently.
How Are Airlines Responding?
Airlines affected by the ban include Emirates, Qatar, and Etihad.
UAE airline Emirates has announced that passengers travelling on their aircrafts will be able to avail of a new packing and shipping service. They will be permitted to use digital devices after check in and until boarding. Passengers travelling from Middle Eastern countries, through Dubai and onto the US can use their laptops during the first leg of that journey.
Royal Jordanian Airlines has tweeted suggestions of things to do during a long flight instead of using a computer or tablet.
Are You Insured?
Passengers may find that their devices are not insured, should they be placed in hold luggage.
Travel trade organisation Abta warned that laptops and tablets are not typically covered by travel insurance policies for loss, damage or theft if they are not being carried in the cabin.
A spokeswoman for the organisation said: "Passengers travelling to the countries affected may wish to consider leaving their electronic devices at home, although this may be difficult for many, especially business travellers and families travelling with children."